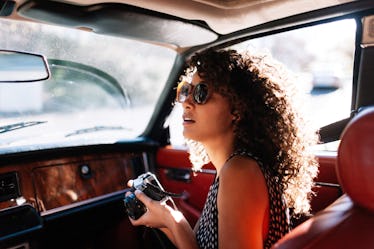 7 Best Spots To Travel To When You're Newly Single & Down For The Adventure
Kayla Snell/Stocksy
So, you're single. It would be so easy to stay in bed all day snuggled up with your blankets, but when has dwelling done anybody any good? Falling out of love and dealing with your post-breakup feels is never fun, but now you get the chance to find yourself a bit. Life is full of little things and big adventures that are worth appreciating and experiencing. Booking a plane ticket and traveling the world is a no-brainer right now, and you finally can check off some things on your bucket list. The best spots to travel to after a breakup will be full of beauty and a lot of love — reminding you that relationships are rad, but places are pretty perfect, too.
They say you should travel alone at least once in your lifetime. Truth is, when you're wandering the world solo you learn a lot about yourself. The only schedule you have to follow is your own, and it's refreshing and relaxing to get comfortable in your solitude.
Being newly single means your finding your inner compass again, and attempting to navigate this thing called life. It's not always going to be easy, but with a little bit of adventure you'll surely find your footwork. Do some soul-searching, pack your favorite sweater in your suitcase, and check out one of these seven spots. You're feeling fun and maybe even a little flirty. Channel all of that passion right into your passport.