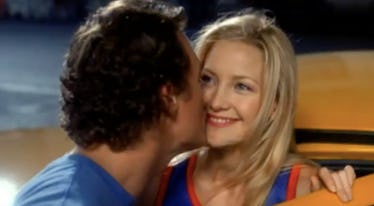 8 Romantic Movies On Netflix To Watch With Your Girls On A Snow Day
Baby, it's cold outside. Snow days call for snuggling up in your favorite sweatshirt and sweatpants, and watching endless romantic comedies. Classes have been cancelled, you got called out of work, and so you and your gal pals have the whole day to lay around and do absolutely nothing. (Thank goodness, to be honest.) Back in the day, you would've had to bundle up and make your way to Blockbuster to rent some flicks for your movie marathon. But lucky for you, there are plenty of romantic movies on Netflix to watch with your girls when the snow has you staying in.
At the end of the day, your best friend is basically your significant other. So, watching romantic movies is never out of the question. There are always the sappy classics like The Notebook, or indies like 500 Days Of Summer. You could jazz it up with La La Land, or ugly cry over P.S. I Love You. Where do you even start? It would take a whole week's worth of snow days to really watch them all.
So, if you just have time for one feature film on a freezing cold day, the pressure to pick something good is so on. We've done a little bit of the work for you (so it's truly a day off), and rounded up some of Netflix's best romantic movies for a snowy girls' day in.