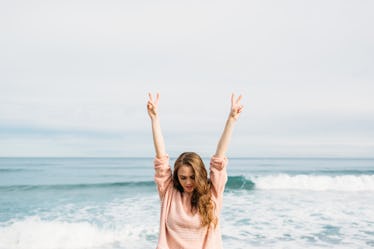 6 Top Beaches In Europe If Your Study Abroad Trip Needs Some Sand & Sunshine
Michela Ravasio/Stocksy
Girls just want to have sun. There's truly nothing like studying abroad in Europe. During the week, you most likely spend your days experiencing your city and getting some sleep. And on the weekends, you jet set to somewhere else that's oh-so-sweet in the constant search for adventuring and curing your wanderlust. You're lucky, because it's fairly easy to hop from one country to the next — between trains, buses, and those slightly sketchy flights, there's always a way to get to where you want to go. But, city life can be draining and if you're looking for some tropics to add to your to-do list, we hope you'll visit one of the best beaches in Europe when you're studying abroad.
Your Instagram needs some sun, and you're in desperate need of the sea. But, before you start to stress, take a deep breath, and keep palm and carry on. Sure, Europe is filled with cities worth seeing, like Copenhagen, London, and Madrid. You'll love your long weekends roaming around busy streets as much as you will laying on the beautiful beaches. Your bucket list at the beginning of your stay was probably filled with excursions like parasailing in the Swiss Alps, and climbing one too many stairs to the top of Florence's Duomo.
Spending some time along the coast won't keep you from city life, and is for shore something you should consider. Truth is, these beaches are nothing like the ones you remember from home. So, break out the swimsuit and pack your beach bag with the essentials, including lots of sunscreen (the sun is so strong, and nobody wants to sit on a plane with sunburn), and hit up one of these six spots for some quality time in the sunshine.