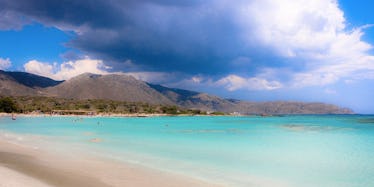 The Top Beaches In The World Were Revealed, So Start Saving Those Vacation Days
TripAdvisor
It's that time of the year where I start straight-up craving some sunshine.
Seriously, it's been cold in New York for months now, so don't judge me if my mind's already on my summer vacay, OK?
Luckily, TripAdvisor is here to cure our winter blues with its list of the top 10 beaches in the world.
This list is vacation porn. These beaches will blow your freaking mind and give you all the inspo you need to start saving for your dream holiday.
So where is the best beach in the world?
1. Baia do Sancho, Fernando de Noronha, Brazil
Beautiful Baio do Sancho is the very definition of travel goals. Forget backpacking around Europe or staying in hostels in Asia, I'll sit on this Brazilian beach with a beer, thanks.
Trip Advisor says,
As you walk through a small trail, you can't imagine what awaits you. The heavenly view seems like a mirage.
2. Grace Bay, Providenciales, Turks and Caicos
Just look at that. Look at the glorious turquoise ocean and how soft and inviting that sand looks.
I'm booking my plane ticket as soon as I figure out where Turks and Caicos is (Southeast of the Bahamas, FYI).
TripAdvisor says,
Unbelievably clear, clean water with hundreds of shades of blues and greens and white sugar sand beaches — ahhhhh!
3. Eagle Beach, Oranjestad, Aruba
I guess I could go for a vacation in Aruba. I mean, like, if I really have to.
Check out those palm trees, that white sand. Picture how good you would look sunning yourself on this beach.
TripAdvisor says,
Aruba's most beautiful beach. Private, quiet, serene, amazing!
4. Playa Paraiso, Cayo Largo, Cuba
When a place's name literally translates to "Paradise Beach," expectations are going to be pretty high.
This beach in Cuba absolutely smashes those expectations because it is, quite literally, paradise. It's not too far away, either.
TripAdvisor says,
Picture-perfect in every way. Gorgeous beach and the bluest water ever!
5. Siesta Beach, Siesta Key, Florida
Now THIS is what I'm talking about.
So you want to visit one of the world's best beaches, but your passport has expired? America has you covered with this absolute beauty down in the Sunshine State.
TripAdvisor says,
Pristine beach that never seems to end. Photographer's dream. A place in the sun that warrants returning again and again.
6. La Concha Beach, San Sebastian, Donostia, Spain
Europe's best beach rocks up at number six on the list.
As well as the gorgeous sand and sea, you can get blitzed at the beach bar, eat at picnic tables or head out to a lighthouse for a change of pace.
7. Playa Norte, Isla Mujeres, Mexico
Mexico has a bunch of awesome beaches, but Playa Norte is numero uno, according to TripAdvisor.
Apparently, the water is warm, so it's great for swimming.
The walking depth is 200 feet from shore, which gives you plenty of space and privacy.
TripAdvisor says,
Calm turquoise waters, pure white powdery sand. Water so blue, it makes the sky look pale.
8. Radhanagar Beach, Havelock Island, India
India is home to some gloriously scenic beaches, and Radhanagar is the best.
It's also a perfect honeymoon destination because people say it is the perfect place to watch the sunset, if you're down for all that gooey, romantic stuff.
9. Elafonissi Beach, Elafonissi, Crete, Greece
Hiding away on a tiny island off the coast of Greece will take you completely off the grid.
And if you're lucky enough to visit Elafonissi Beach, you'll have enough Instagram bangers to keep your feed poppin' for months, which, let's face it, is all we really want in a vacation.
TripAdvisor says,
The sea was calm and beautiful. The colors are intense — light blue water, pink sand. Paradise.
10. Galapagos Beach at Tortuga Bay, Puerto Ayora, Ecuador
A place so ridiculous it's weird how it even exists is the ideal place to round out our top 10.
Punch a ticket not just for giant tortoises and incredible views, but for an out of this world beach.
Trip Advisor says,
Long hot walk, but worth the trip!
Citations: From the white sands of The Whitsundays to the golden bays of the Caribbean: TripAdvisor names 2017's best beaches in the world (MailOnline), Top 25 Beaches — World (TripAdvisor)