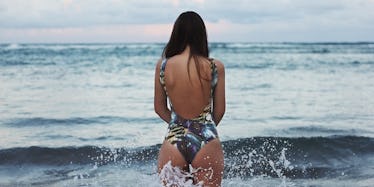 7 Instagram-Worthy Beach Essentials For The Girl Who Thinks She Has Everything
Christopher Campbell/Unsplash
Every gal needs to be perfectly equipped with the essentials for when she gets her base glow flow on throughout the summer months.
If you're a beach baby with your booty parked in the sand all season long, you most likely live out of your beach bag. It's the only way you know how to roll, and you wouldn't have it any other way.
There's something so damn fulfilling about taking a dip into the deep blue, and having those beautiful rays shine down on your skin.
Once you arrive at the beach, you never want to leave. It's truly your home sweet home.
If you think you already have everything you need to take on summer in style, here are seven Instagram-worthy staple items every chick simply cannot live without.
1. A Swimsuit With Fun Cut Outs
Lolli Smitten One Piece In Tropics, $169, Urban Outfitters
What's better than soaking up those warm rays of sunshine in one of your favorite cut out swimsuits?
If you're headed to grab dinner or ice cream with your girlfriends after the beach, a one-piece is a perfect transitional garment to pair with a skirt, sun hat, and fabulous sunnies.
Lolli Swim's whimsical one pieces will have you feeling breezy, cool, and oh-so chic on the sand.
2. Chic Leather Pocket Wallet
Saffiano Leather Pocket, $25, Casetify
This one's for all of my ladies out there who consistently misplace their credit cards. Who needs the stress of bringing your entire purse to the beach when you can have your phone, cash, and cards all in one place?
3. "Vitamin Sea" Beach Bag
Vitamin Sea Bag, $160, Chila Bags
Hitting up the beach would not be complete without a chic beach bag to store all of your essentials in. You'll be enjoying all of that prime *Vitamin Sea* in no time with this trendy number.
What's awesome about purchasing accessories from Chila Bags is they support an incredible cause by aiding women of the Wayuu tribe in Colombia.
4. Beach Sandals That Won't Get Ruined By A Little Surf And Sand
Tere Sandals B Cross, $99, Chila Bags
These sandals will seriously be your go-to pair for any beach outing throughout the summer months. They come in a variety of fun colors, highlight chemical-free natural tan leather, and won't get ruined every time you retreat to the sea.
5. Protective Treatment For Your Luscious Locks
Cuvée Beauty Protective Treatment, $45, Revolve
Protect your hair from those UV rays with this refreshing serum spray. It adds a bit of shine to your locks, while detangling and taming any annoying fly aways.
Your hair will be looking oh-so-fine for the 'gram after diving into the deep blue.
6. Refreshing Hand Cream And Perfume For Your Post-Beach Plans
Soap & Paper Factory New Classics Collection, $16, Amazon
If you're feeling sticky and sweaty from basking in the sun all day long, take a quick dip under the shower, and whip out your perfume oil and hand cream to freshen up.
Soap & Paper Factory New Classics Collection highlights its most popular soaps, hand creams, and perfume oils into adorable travel-sizes... perfect to throw into your beach bag.
You'll feel refreshed in no time, and let's be real: Who wouldn't love a tiny perfume bottle as trendy as this one?
7. Minions Cosmetic Pouch
Casetify x Minions x Craig + Karl, coming soon, Casetify
OK, this is typically a case used for tablets, but it can also double as a cute pouch for all of your cosmetic items.
Besides, Minions are way too adorable to pass up. Casetify's newest collection is coming soon, just in time for the movie, which debuts on June 30.
The collection also includes fun glitter phone cases and Apple Watch bands.