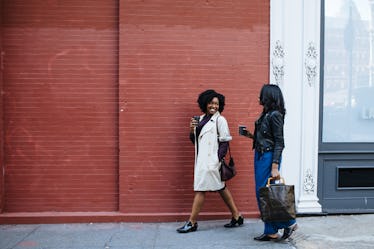 7 Women Reveal What They Did To Find The Work Wife They Can't Live Without
We all need a best friend, even when we're at work. The real world can be intimidating at times, and it's always nice to know you have a sidekick who will help you handle it all. This is the person who will grab you your favorite coffee in the afternoon, or send you memes when you need them the most. They know your order and what will make you laugh just the same, and are continuously making your week a bit brighter. The real question you might be asking yourself is: How do I find a work wife?
Lucky for you, these real women are telling their stories, so you know just how to go about finding your new best friend. I'm talking a Lauren Conrad and Whitney Port kind of friendship from The Hills, or maybe even a relationship as real as anyone in the cast of The Office. Yes, our favorite sitcoms and reality television shows have once again set the standards pretty high, but you're up to the challenge.
Truth is, you just really need someone to understand who you are, beyond just who you are at work. Your work bestie will know all the vibes you're feeling on a Monday morning, and on Friday, you two will split some appetizers and toast to the weekend at happy hour. So, how do you land such a sweet deal? These seven women have been there, and know exactly what to do.