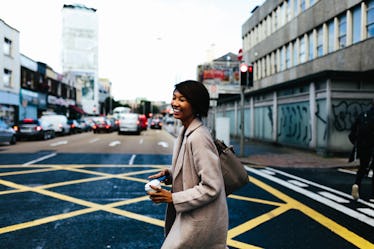 8 Important Self-Care Tips To Never Forget During Your First Job
HEX./Stocksy
You landed your first job! Oh boy, college was a whole lot of stress, but once you really hit the "real world," you realized it's not all so bad. All of those late nights on the train coming back from your internship were so worth it, and now your planner is packed with your passions. On the weekends, you might detox yourself of all the new stress with bath bombs, good books, and much-needed adventures. But, when the work week comes around, you can't leave self-care just to Sundays. The self-care tips to never forget will keep you bright and doing your best, because this new life can be a bit draining at times, and it's easy to overlook what we really need.
Coffee isn't always the answer, believe it or not. The real world does very much run on caffeine and caramel macchiatos, but your body needs a whole lot more than that to survive and thrive at your first job. Maybe you totally made your passion your paycheck, or aren't living the dream quite yet and are using this spot as a stepping stone. Either is just fine, and it's important not to compare yourself to others -- whether it be your college friends, or even just people around the office.
Spa days are pretty sweet, but you might not have a vacation day to spare. So, when you're sitting at your desk, remember one of these eight self-care tips. Your mind and body will work better with a little bit of love.