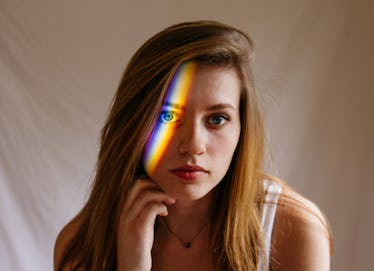 How To Practice Self-Care In 2018, Based On Your Zodiac Sign
Jesse Morrow/Stocksy
Self-care isn't just for Sundays. You've probably set a lot of intentions for the new year. You may want to travel more or ditch any toxic friends in your crew. Oh, the pressure is most certainly on — and between your already hectic schedule and other life demands, you're wondering if you'll just once again bail on those resolutions. Amongst all the chaos can be beauty, though. If only we choose to slow down and care for ourselves. Loving yourself is fairly new in the lifestyle game, so here are some ways to practice self-care in 2018 based on your zodiac sign.
The stars don't have to align for you to feel so in sync with yourself and your life. Self-care by definition can be just that — the act of caring for ourselves so that we mentally, emotionally, and physically feel in harmony.
When people think of self-care, they often think of spa days, cozy wine nights, and a whole lot of retail therapy. The Tom Haverford lifestyle from Parks And Rec might come to mind, full of fine leather goods, hot tubs, and mimosas. Treat yo' self!
But self-care isn't all about spending money or bath bombs. It's about putting yourself first sometimes, and doing things that will elevate you — however selfish it may seem. Based on your zodiac sign, here's how you should start practicing self-care (because no two signs are the same.)