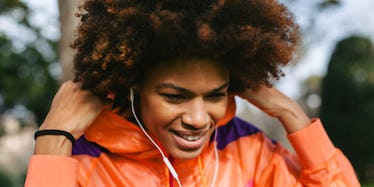 15 Songs To Add To Your Running Playlist The Next Time You Pound The Pavement
Running is hard enough as it is.
Sure, it always feels amazing once you're done, when the endorphins envelop you in a naturally-induced bliss.
But trudging through the pain and the exhaustion can be beyond brutal.
For me, the only thing that makes running even remotely tolerable is a kickass playlist.
Music makes cardio, dare I say, fun.
Yeah, I went there.
Whether a good run is as natural as breathing for you, or you cringe at the thought of conquering cardio, this playlist will have you jamming out like no other on your next jog.
Here are 15 songs to help you power through the pain the next time you pound the pavement.
1. "Despacito" - Justin Bieber
Come on, you knew this song would be first on the list.
Honestly, if this song could turn my brother into a Belieber, it can do no wrong.
2. "Just Like Fire" - P!nk
TBH, when the beat drops in this song, I shock myself by how fast I can actually run.
Thank you, P!nk, for being the real MVP.
3. "Peanut Butter Jelly" - Galantis
Killer sandwich combo, even more killer song.
On that note, you can catch me after my run in the kitchen whipping up a classic PBJ.
4. "Wild Thoughts" - DJ Khaled
When I first heard this song, I honestly felt pretty lukewarm about it.
But a couple days later, I realized how aggressively wrong I was.
Major key to success on every run.
5. "24K Magic" - Bruno Mars
Bruno Mars coming in hot with all the magic you need to make it through that last mile.
Slap this baby on your playlist, and you'll feel like you can go for days.
6. "Love in This Club" - Usher
The classic throwbacks are what really keep me going when I feel like I just can't move another inch.
This oldie is perfect for when you feel like you're starting to lose steam. You'll be singing and running along to the beat before you know it.
7. "It Ain't Me" - Kygo, Selena Gomez
Feel-good song of the century, amirite?
Does anyone else turn the volume all the way up and scream at the top of their lungs when this comes on the radio?
No? Cool. Me either.
8. "Adventure of a Lifetime" - Coldplay
This one is best saved for a steadily paced, casual jog, where you just need a nice, mellow beat to fuel those miles.
Chris Martin's got you covered.
9. "Lose Yourself" - Eminem
I dare you to find a more motivational song than this one.
Literally every workout playlist needs a little Eminem. It's basically a rule of fitness.
10. "Downtown" - Macklemore
Some people run for fitness, and some run for fun.
Whether you're aiming to crush your fastest mile time, or just exploring a new route, Macklemore's got your back with this feel-good jam.
11. "Me Rehúso" - Danny Ocean
I could probably run a full marathon motivated by just an endless loop of this song.
OK fine, maybe not. But those Latin vibes will make anyone want to get up and move.
12. "The Cure" - Lady Gaga
It's like Lady Gaga wrote this one for when you need a cure for your aching legs.
Just. One. More. Mile.
13. "Be Right There" - Boombox Cartel Remix
Remixes are my freaking jam, because they'll push you past your limits and build that much-needed momentum like nothing else.
The fun beat in this song will totally distract you from that Jell-O feeling in your legs, and make your strides feel silky smooth.
14. "Waterfall" - Seeb Remix
I can't help but get a little skip in my step whenever this baby pops up on shuffle.
Plus, is there anyone who doesn't get chills from Sia's vocals? I mean, damn.
15. "Capsize" - Dzeko & Torres
This mix is sure to make you feel like you're crossing a half-marathon finish line, even if you're actually just jogging through your usual route back to your apartment.
You can pretend you got a medal, though. I won't tell.