7 Ways To Make Running More Bearable, Even If You Think You Absolutely Hate It
When it comes to running, it seems like people either love it or they hate it.
If you identify with the latter, there's no need to lose hope. There are plenty of ways to shift your perspective and find some fun on your next run.
Look, I'm not saying you can automatically start feeling pumped at the mere thought of running seven miles, but at the very least, maybe you can find a way to crack a smile as you picture yourself conquering a few laps on the track.
Here are seven ways to make your next running experience... well, tolerable (I'm no magician, guys).
1. Make A Kickass Playlist
For me, this is what really makes or breaks a run.
Give me some quality Bieber (if you don't absolutely love "Despacito," you are wrong) and a few 2012 TSwift jams, and I can run for days.
An upbeat, good-vibes-only playlist will make you crave some movement, and inspire you to jog right along to the beat of your jams.
Might I recommend BeastMode on Spotify? Yeah, it's exactly what it sounds like.
2. Treat Yo'Self To Some Styling Sneakers
The right shoe can definitely help prevent blisters or pesky shin splints (ugh, the worst), but new kicks can also totally motivate you to get out there and pound the pavement like a pro.
Investing in that super comfy pair of hot pink Nikes you've been eyeing for awhile might just give you just the push you need to slay some speed-work.
3. Set #Goals For Yourself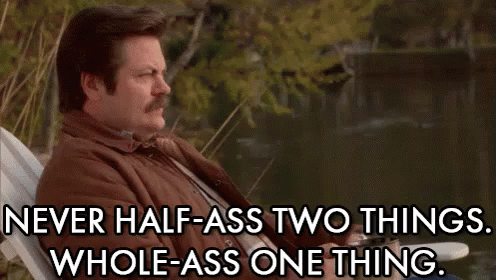 Set a goal for yourself to reach for every run.
Motivation can be difficult, but having a purpose behind hopping on the treadmill or trying out that new trail will make you feel all the more accomplished afterward.
Give yourself incentive by focusing on things like improving your mile time, getting speedier at your sprints, or even simply running for just a couple more minutes each day.
4. Find A Friend
Grab a friend, and slow your pace to a casual jog so the two of you can chat alongside each other to pass the time.
Oh, and according to Psychology Today, couples who run together, stay together.
All the more reason to bring bae along for a beach run, amirite?
5. Run For A Cause
There's nothing more rewarding than running for a cause you're passionate about.
My first half marathon was to raise money for the Leukemia & Lymphoma Society.
I'd never ran in my life, and I honestly didn't think I would make it to 13.1 miles. But the incentive to kick cancer's ass got me out there to train every single morning.
If there's an organization you strongly support, see if they're involved in any running events. There are tons of charity and community events out there to browse through.
There's even an app called Charity Miles that allows you to give back with each step.
6. Pay For A Race
If you sign up for a 5K, you might find yourself making excuse after excuse for why you just can't get your run in that day.
But, if you actually pay money out of your own wallet for a marathon or race, it's a little harder to bail on those morning miles.
Races like The Color Run or The Mud Run are super fun starting points, and the endorphins from the community and crowds will keep you craving more.
7. Reward Yourself
Finally, reward yourself after your runs.
For me, I love making healthy snacks like banana muffins or chocolate energy bites that I can look forward to when I'm sweaty and hangry AF.
Whether it's a sweet treat or a movie with a pal, there's no time like after a successful sweat sesh to treat yo'self.