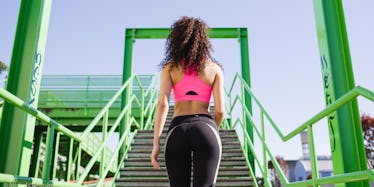 7 Cardio Workouts To Try This Summer That Don't Involve Running
I used to run. Every. Single. Day.
I loved the runner's high, the post-sprint sweaty glow, and that buzz of endorphins that left the good vibes lingering all day long.
Running was once my cardio of choice, but looking back, I honestly thought it was the only form of cardio that existed.
Maybe if I knew there were other, equally as effective exercises, I wouldn't have been such a treadmill devotee.
To be honest, once I started mixing up my fitness routine, I found myself looking forward to challenging new workouts each and every day. I managed to make it out of a plateau I didn't even know I'd hit.
Plus, a lot of alternative cardio workouts require minimal to no equipment -- which means you can increase your heart rate and  tone your bod right from the comfort of your living room.
Sorry, treadmill. It's not you, it's me.
Here are seven cardio workouts that will make you want to break up with your running ritual (or at least take some time off to "find yourself").
1. Stairs
The StairMaster is a great machine for a killer workout, but the cool thing about using stairs as your cardio is that all you need are your legs.
Stairs are basically everywhere -- seriously, one time I didn't feel like going to the gym, and I just did some sprints up and down my apartment stairwell (#SorryNotSorryNeighbors).
No excuses; go find some stairs and get to it!
2. Tabata
Tabata training is a type of high intensity interval training designed to get your heart rate up in that super difficult anaerobic zone for short intervals.
This type of cardio helps you burn more calories both during your workout and hours after the fact.
Tabata usually follows a format of 20 seconds of a very high-intensity exercise (think sprints or burpees), then 10 seconds of rest. Repeat the circuit eight times for four minutes.
Warning: It may or may not feel like the longest four minutes of your life.
3. Yoga Sculpt
I usually build up a bit of a sweat in yoga, but I never knew the true definition of perspiration until I took a yoga sculpt class.
This muscle-focused form of cardio boosts metabolism and builds lean muscle mass -- all to the beat of a kickass playlist. The combination of free weights, vinyasa flow, and cardio results in an overall intense, but amazing workout.
Mix sun salutations with squats, lunges, and bicep curls at your nearest CorePower Yoga Studio.
4. SoulCycle
If you haven't heard of SoulCycle by now, no offense, but you may be living under a rock.
The super fierce cardio workout is all the hype, and it can be a great change of pace (literally) from classic running.
Soul classes include climbing, jogging, sprinting, and dancing -- a full-body workout all on a single indoor cycling machine.
Check out the video above to prepare for your first ride.
5. Burpees
We love to hate them. And we hate to love them (OK fine -- maybe you'll never love them, but I kind of enjoy burpees now... Anyone else? No?).
Burpees are a bodyweight exercise that work your arms, legs, and core while getting your heart racing.
They're hard AF, but once I get through a circuit of them, I feel super invincible.
Add these bad boys to a HIIT circuit, or just do as many as you can until you feel like death is upon you.
6. Jump Rope
I thought my last encounter with a jump rope would be middle school recess, but it's come back into my life and followed me all the way into the gym.
Jumping rope sculpts your shoulders, chest, arms, and legs, while also requiring a decent amount of coordination.
You're not going to want to skip this one. Ha. Ha. OK bye.
7. Squat Jumps
I hate squats. Hate them.
But I also have the world's flattest butt, so sometimes, you just have to make sacrifices, amirite?
Squat jumps are a high-intensity, plyometric exercise that involve explosive power using your own body weight.
This move leads to conditioning of the lower body muscles and joints (whatup gluteus maximus?)
It's easy to do this exercise wrong, though, so make sure you're being mindful of your form to avoid any injuries.
Otherwise, take your "regular" squats to the next level with this form of cardio.
And when you're done, sit back and enjoy those beautiful booty gains.