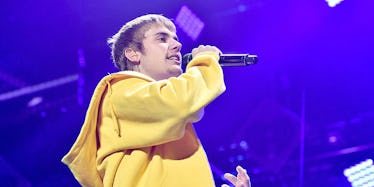 Here's What The "Despacito" Lyrics Actually Mean, If You Were Wondering
Mike Windle/Getty Images for iHeartMedia
We all know it, we all love it.
The song "Despacito" by Luis Fonsi, featuring Daddy Yankee and Justin Bieber, is a sexy little number that makes us feel like we're wearing red dresses in the Spanish sun and probably have really long eyelashes and great collar bones that don't need contouring.
What? Just me?
As much as we all love to sing and dance along, for those of us who don't speak Spanish – does anyone know what we're all getting down to?
Using my deductive reasoning and exactly three years of Spanish studies in high school, I assume "despacito" means "I'm desperate."
Annndddddd Google says... Wrong, so wrong. Embarrassingly wrong.
The word "despacito" actually translates into "slowly."
With that in mind, here is the actual translation of the rest of the chorus, according to Huffington Post.
Slowly I want to breathe your neck slowly. Let me whisper things in your ear, that you'll remember when you're not with me. Slowly I want to undress you with kisses slowly. Sign the walls of your labyrinth and turn your body into a manuscript. I want to see your hair dance, I want to be your rhythm I want you to show my mouth your favorite places. Let me surpass your danger zone, until it makes you scream and makes you forget your last name.
Ah yes, I knew the word "labyrinth" was in there somewhere.
Also, for funsies, at the end, the lyrics go:
We're going to do it on a beach in Puerto Rico, until the waves scream 'Oh, Lord!'
Nothing like personifying ocean waves, know what I mean?
It looks like I might not be the only person having trouble with the lyrics. Justin Bieber himself reportedly straight up forgot the lyrics at a recent performance, filling in the lyrics with "Blah blah blah" and then refused to sing it at a concert.
I get it, Justin. Languages are hard.
Fortunately, this song rocks and we'll forgive you every time you mess up the words or pee in a bucket like that one time.