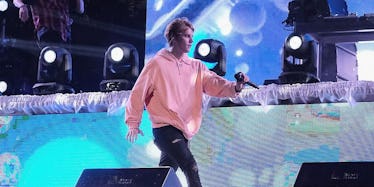 Justin Bieber Straight-Up Forgot How To Sing "Despacito" At A Performance – VIDEO
Getty Images
Hard to believe it, but Justin Bieber made a mistake, everyone.
Justin "The Man, The Legend, The Dream" Bieber was recently caught -- no, not with his pants down -- but close. At a performance at the New York City club 1 OAK, Justin is videotaped singing his bilingual hit "Despacito" to a crowd of seemingly super drunk audience members.
Objectively, "Despacito" is, like, a great song. And love-to-hate him or hate-to-love him, Justin usually sounds like a little Spanish speaking angel on the Daddy Yankee and Luis Fonsi track. Just... not this night.
In the TMZ video, Justin is singing/shouting into the microphone and suddenly just straight up drops the words entirely, yelling, "Blah blah blah blah!" in their place.
Really, Justin? That's the best you got?
In the video, he seems to go on to jump over the rest of the song completely, holding the microphone up to the audience and laughing at the ceiling.
Ok, ok, ok. Every mega celebrity should be allowed one or two nights of intimate, drunken debaucher, but of course the internet wasn't having it, saying that Justin dropping the lines and replacing them with jibber-jabber is an insult to the Spanish language.
That said, a lot of people were just like, "IDK. Learning other languages is hard???"
The same night, it appears Justin performed another cover, this time of Kendrick Lamar's "Humble," in what Mashable is calling "the cover no one asked for."
At the end, Justin is heard saying, "Yeah, I know my name is Justin but justice is coming." Whatever THAT means.
Look, I'm not here to pick a fight with Beliebers or act like I've never made some bad choices at a karaoke booth. If Justin had one too many picklebacks and decided to rap it's like, we've all been there... ya know?
Te amo, Justin.
Citations: Justin Bieber rapping a remix of Kendrick Lamar's 'Humble' is the cover no one asked for (Mashable), JUSTIN BIEBER NO HABLO ESPAÑOL During 'Despacito' Live (TMZ)