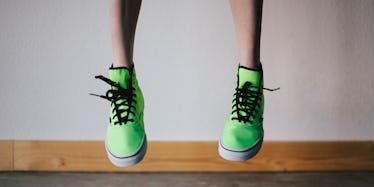 10 Pairs Of Sneakers Under $50 That Will Help You Reach All Your Fitness Goals
Everyone hates the workout slump.
You know what I mean. It's like writer's block, but in fitness.
You have zero motivation, and spend half your time fantasizing that your main men Ben and Jerry will make your abs magically appear.
The thought of a burpee or a HIIT circuit makes you queasy.
When I get into a workout rut, I like making a kickass playlist, stalking some of my girlboss inspos on Insta, and... shopping.
Shoe shopping, to be exact.
Carrie said it best: There's nothing a new pair of shoes can't fix. And workout sneakers, in particular, are my kryptonite, TBH.
But, my dwindling bank account screams otherwise.
Luckily, cuteness doesn't have to be compromised for price.
Here are 10 adorable kicks under $50 that will motivate you to slay your next sweat sesh.
Happy shopping!
1. Lavender Love
Nike Flex Bijoux, $48.95, Zappos
I don't think I would ever want to take these pastel Nikes off.
Is it acceptable to wear shoes in the shower? Asking for a friend.
2. Pop Of Color
Women's Nike Free TR 6 Training Shoes, $49.98, Finish Line
The simple gray hues on these sneaks, accentuated by the playful pop of peach, are to die for.
These lightweight shoes are pretty versatile, so you can sport them on the streets or take em' straight to the StairMaster.
3. Mint Madness
Adidas CrazyTrain CF, $49.99, Zappos
Adidas, you stole my heart with this pair of trainers.
The color reminds me of a Tiffany Box, and I honestly feel classy AF just looking at them.
4. Anything But (B)asic
ASICS Women's GEL-Venture 5 Running Shoe, $39.98, Amazon
OK, was I trying too hard with the Asics pun? #SorryNotSorry.
On the real, though, Asics are SO comfy, and they're perfect for high-intensity workouts or treadmill runs.
And that price, girl... Someone confiscate my debit card.
5. Little Black Shoe
ASICS Women's Rhythmic 2 Cross Training Shoe, $46.99, Amazon
Everyone has a little black dress. I'm a strong supporter of the little black shoe.
These babies go with even the wildest of yoga pant prints, and they're simple, yet sophisticated (just like the classic little black dress).
6. Something Blue
RYKA Women's Exertion Shoe, $30.74, Amazon
These royal blue babes are sure to turn heads whether you're strolling down the street or grinding away at the gym.
Throw on this pair of sneaks when you feel like you just can't do one more rep.
7. SpiderShoe
Reebok Women's Trainfusion Cross-Training Shoe, $43.95, Amazon
The red and black on these Reeboks just really reminds me of SpiderMan, OK?
Can I get some webs shooting out of my fingers up in here?
You know, so I don't have to walk all the way to the other side of the gym to get a heavier set of weights.
#StruggleBus.
8. Comfy As A Cloud
Adidas Cloudfoam Super Flex, $42.99, 6pm
As soon as I saw the words "cloud" and "foam" combined, I was sold.
Next-level comfort is key when it comes to working out, and these mesh sneaks have got you covered (and blister-free).
9. Orange You Glad...
Saucony Kilkenny XC5 (Flat), $24.99, 6pm
Sometimes, there's nothing that'll pump you up quite like a pop of neon.
These tangerine running flats will give you a welcome blast of morning motivation.
Plus, the bright hues are perfect for night runs, if that's your jam.
10. Pretty In Pink
Nike Flex Fury, $45.00, 6pm
I honestly couldn't believe that these pink Nikes were under $50 -- and I may or may not have purchased them immediately after I wrote this article...
See ya in the gym!