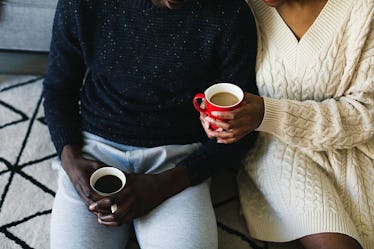 8 Ways To "Hygge" Your Bedroom & Make Your Space All About Self-Care
So, in case you haven't heard, there's this Danish cultural concept called "hygge" (pronounced hue-gue). It's a relatively small phenomenon, but the word basically translates to mean a moment that is special, warming, or cozy. The Danish try to create many of these moments through the winter and holiday months in particular, so much so that making homes and experiences with friends and family all about intimacy and coziness is a major focus during this time of year. Not a bad idea right? And figuring out how to hygge your bedroom might be a great place to start workin' it with this warm and wonderful way of life.
To be clear, the concept of hygge is really, really not an excuse to buy tons of soft things and make a Goop vision board. While it is sometimes thought of this way, hygge is more about a state of mind that focuses on cultivating special moments, relaxation, and feeling warm inside and out.
The whole concept of hygge is spreading all across the world, with Scotland getting into the cozy game, for example, as they've recently come out of the woodwork (of a Highland winter cabin, perhaps) to introduce their cozy concept, "còsagach," a Gaelic word that means feeling warm and snug. It's kind of like they're announcing a coziness battle royale of sorts, no?
Well, I say, the more cozy concepts out there, the merrier — especially since 2017 has given us more than enough reasons to take shelter in our homes for all of eternity. So, here are a few ways to get your hygge — or perhaps your "còsagach" — on this winter.