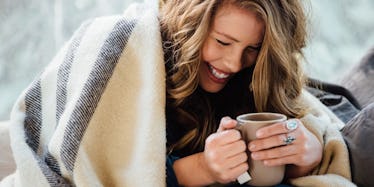 Hygge: The Piece Of Danish Culture That Can Make Americans Happier
Hygge (pronounced "hoo-ga") is just one word, among many other things, we can learn from Danish culture.
It roughly translates to English as "coziness."
It first appeared in Danish writing way back in the 18th century, and it was strongly embraced and adopted into Danish culture.
The Danes swear hygge, a sense of closeness and community, needs to be felt, not just said.
When using the term "coziness," one typically thinks of the comforting setting of a room (e.g. dim lighting or candles).
This is one aspect of the word hygge. However, the word is primarily used to refer to people who are in a more intimate setting.
Denmark is known for being the happiest country in the world.
This is true, as Danes are genuinely happy people. They love their country and their ridiculously difficult language.
Is hygge the reason Denmark is ranked the most satisfied country?
Let's dive deeper into the meaning of hygge.
Hygge is an experience.
Sitting around a table with friends and family? That's hygge.
Lighting candles and making a room more cozy? That's hygge, too.
Christmas is a time for hygge, but summer is also a time for hygge.
Danes have a special way of making things feel cozy and comforting.
Whether you're spending time with family around a fire in autumn or having a picnic at the park with friends in the summer, both can qualify as hygge.
So, how can we be more like the Danes?
By simply practicing more hygge in our daily lives.
We have to take time out of our busy lives to spend time with friends and family, whether that's sitting down for a family meal together or grabbing a coffee with a friend.
Spending quality, face-to-face time with one another is sometimes all we need. Most of us can agree an emoji hug just isn't the same as the real thing.
Understanding and embracing hygge is turning out to be a popular phenomenon around the world, and more countries are trying to adapt it and embrace it in their cultures.
For example, the United Kingdom has seen a recent pop-up of Scandinavian-styled restaurants, cafes and bars that embrace the cozy, hygge-like atmosphere.
Even the United States has a place in Los Angeles called Hygge Bakery. It sells traditional Danish pastries and desserts in an attempt to impart some special Danish coziness.
Traditionally, Danes spend a lot of time with family, mostly by eating, drinking and relaxing together.
Older generations are pretty much mortified by the idea of young people lying around and watching Netflix by themselves.
Hygge is so deeply rooted in the Danish culture that it has outsiders, especially those who visit, confused.
If you have the opportunity to visit this beautiful country, you'll see hygge firsthand everywhere.
The people are friendly and honest, and they love to engage in conversation.
They just have this special way of making things welcoming.
The Danes are genuinely happy and love their way of life. Perhaps we can all learn a few lessons from hygge, and we can incorporate it into our own lives, however that may be.
Everyone has his or her own way of doing things, whether that's family rituals or cultural traditions.
But maybe, we can all carve out some more time for the special loved ones in our lives.
The Danes seem to have it down pat, and maybe that's why they're in the happiest country in the world.