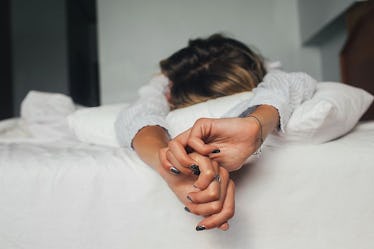 8 Ways To Calm Your Busy Brain Before Bed So You Can Finally Get Some Sleep
Studio Firma/Stocksy
Sleep tight. Insomnia is that friend we hate, but can't ever seem to get rid of. Some weeks, our schedules are absolutely packed, and at the end of a long day, we look forward to getting into bed and hitting snooze. But sometimes our minds and bodies are still racing from to-do lists, too much coffee, and tomorrow's schedule. We can't seem to unwind and it's easy to get stuck wondering if wellness is really necessary. Truth is, it's totally necessary -- and if you're having trouble getting some sleep, there are healthy and simple things to do before bed that will have you knocked out in no time.
You've tried it all. The herbal teas, the extra dose of melatonin, and the power naps just aren't cutting it. As a kid, nap time was the best time of the day, and nobody questioned that you needed that extra hour in the afternoon to hit the reset button. As an adult, times have certainly changed. You find yourself settling on little-to-no sleep for the sake of your schedule, and researching new apartments in Spain where siestas are the cultural norm.
We aren't Energizer bunnies, and getting your full eight hours has so many good benefits for your health. It makes your skin brighter, improves your mood, and all-in-all makes us more equipped to handle life as it comes at us. So, before you attempt to hit the hay tonight, try these eight things to calm your busy brain and finally get some sleep.