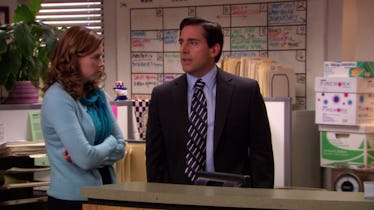 14 GIFs From 'The Office' That Totally Describe Your Work Week
NBC/Netflix
Is it the weekend yet? The work week can be totally draining sometimes. If you've made your passion into your paycheck, you might not mind it so much. But, if you aren't quite following your dreams just yet, you know that Mondays are still the absolute worst and that there's a reason why happy hours exist. We're not all lucky enough to have the world's best boss, but our favorite sitcom coworkers make sitting by the water cooler a little more manageable. These GIFs from The Office will totally describe your work week, and have you wondering if you should transfer to Scranton ASAP while you're at it.
We really can't blame Jim for pulling all those pranks on Dwight. The office life might be kind of boring at times. On any given day of the week, we all do wish there was a camera nearby that we could glance at when something honestly absurd is happening. Wild nights in Chili's and sentences that don't quite seem to have an ending yet need to be documented for all the Dundies to come. Some of us might sort of be faking it until we make it, and we have Michael Scott (and Wayne Gretzky) to remind us to take all the shots in life, including in the office.
Maybe this is just a form of procrastination (I'll have to run that by Jim), or maybe I'm just a GIF master. But, these GIFs from The Office will have you feeling like a Dunder Mifflin employee this work week.