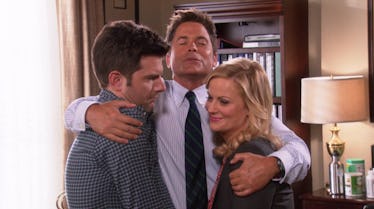 7 Moments From 'Parks And Rec' That Are Relatable AF For You & Your Coworkers
NBC/Netflix
The Parks and Recreation gang are quite the bunch. They're obsessed with waffles, an iconic tiny horse, and treating yo' self. They're hard workers, meat lovers, and running enthusiasts. They remind us of why we love our coworkers and what we do, and why other days everything can just be the worst. (I mean, we all wish we could just clock in some sick time for flu season in advance.) But aside from all that, there are moments from Parks and Rec that are just hardcode relatable. They keep us watching and laughing episode after episode.
Our coworkers are there for the best and the worst. They're there when the deadlines are really getting to us, and at happy hour clinking a wine glass against ours. They spend most of our days with us, so they know all of our secrets outside of work. When we're really close with them, they may have a few inside jokes to share. What ever did happen to that missing projector? Who knows, but it'll end up on a trivia question at the next holiday party, so someone better figure it out soon.
You can always count on your coworkers for the best laughs and to low-key become some of your best friends. Work has a way of bringing together people that otherwise would've maybe never crossed paths. Look at Ron and Leslie, or Tom and Jerry. OK, bad example. People are probably avoiding Jerry's path (Terry, Larry, Gary) at all costs, but you get the picture. Here are seven Parks and Rec moments that, as coworkers, we can all relate to.