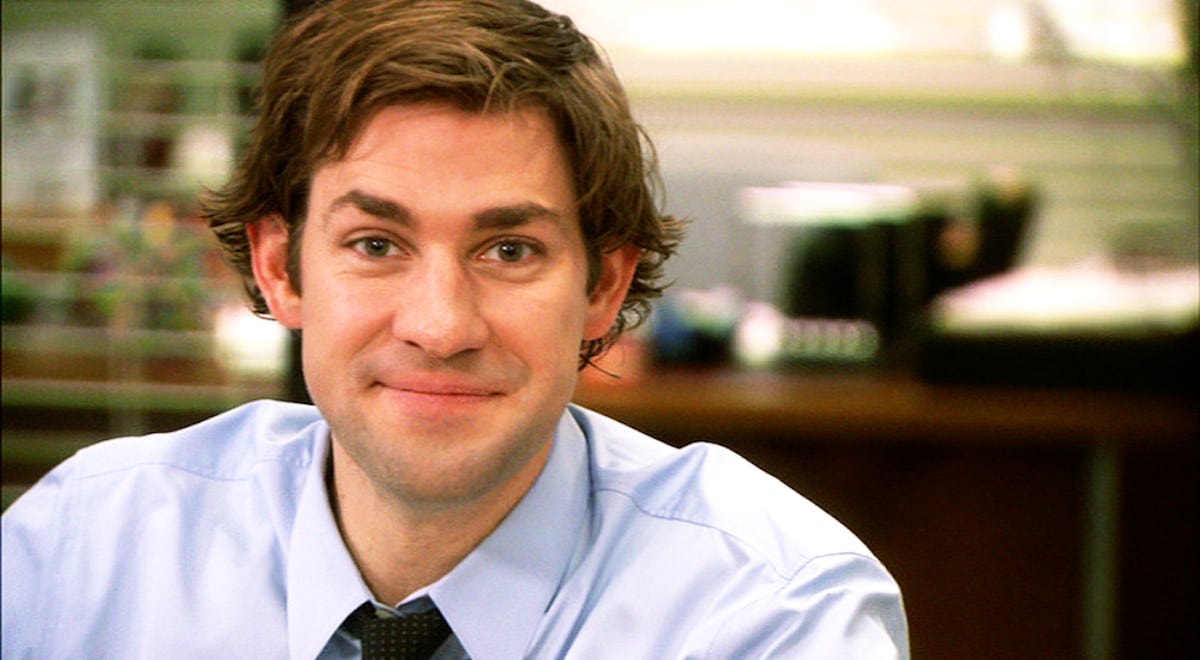 John Krasinski Is Down For That 'The Office' Reboot, So Someone Call Dunder-Mifflin
NBC
All that talk about a reboot of The Office may be more than just hopeful chatter — now Jim Halpert himself is confirming that he is on board for a revival series of the beloved sitcom. Amidst all the sitcom reboots that seem to be happening recently, rumors that NBC may bring back The Office for a new run have been popping up for a while now. God bless Ellen DeGeneres for asking John Krasinski about those rumors while she had him on her show. John Krasinski said he's down for a The Office reboot if it happens, giving every Office fan even more hope that we will see Dunder-Mifflin yet again.
Talk of The Office getting a revival series first started back in August, when NBC's entertainment chairman Bob Greenblatt revealed that he extended an open invitation to The Office's showrunner Greg Daniels to develop a reboot whenever he wants. Then in December, we started to get more concrete information, when TVLine reported that NBC was indeed developing a continuation series to The Office for the 2018-2019 season. But there was a bit of a catch for true-blue Office fans: the new series will reportedly include a mix of old and new cast members, and the original star Steve Carell will not be reprising his role of goofy boss Michael Scott.
With that caveat that the rumored The Office reboot may not include all of the main cast from the original series, some fans began to worry about who else might not be coming back. Well thankfully, it sounds like Jim Halpert is ready to return to his desk. When Ellen DeGeneres asked John Krasinski if he would reprise his role for a revival of The Office, he responded enthusiastically:
Oh my God, are you kidding? I'd love to get that gang back together.
Although it's super reassuring to hear Krasinski confirm he would be just as excited as the rest of us for a reboot, he also revealed that he still has not heard any official word from NBC about a The Office revival actually happening. Krasinski said he heard the reboot rumors the same way the rest of us did: on the Internet. And since he never got a call, he is actually scared that NBC may be working on the reboot without him. Let's hope that the network saw the interview and is giving Krasinski a call right now — what's The Office without Jim Halpert staring at the camera every time something ridiculous happens? Check out John Krasinski's full interview on Ellen below:
John Krasinski isn't the only Office star who is down to return for a potential revival series. Over the past few months, series stars Rainn Wilson, Jenna Fischer, and Angela Kinsey all said that they would be open to bringing The Office back in some form. With such a large portion of the show's main cast publicly expressing interest, along with NBC's boss stating that the network is more than happy to get behind a new project, it seems like the ball is in showrunner Greg Daniels' court right now. And if TVLine's report from December is true, then Daniels already has the premise of the revival series together and is in the casting process for the new parts, including a new boss to replace Steve Carell's Michael Scott.
This news from John Krasinski should be heartening for fans, considering he seemed to be one of the actors less likely to agree to reprising his role in a The Office revival series. After The Office ended in 2013, Krasinski moved away from comedic acting, focusing instead on producing more dramatic films like The Hollars and Manchester by the Sea, and beefing up to take on serious action hero parts in 13 Hours: The Secret Soldiers of Benghazi and Amazon's Jack Ryan series. It's good to know that even though Krasinski's career has changed a lot since The Office, he is still totally down to head back to the paper factory. Let's just hope this thing actually happens!