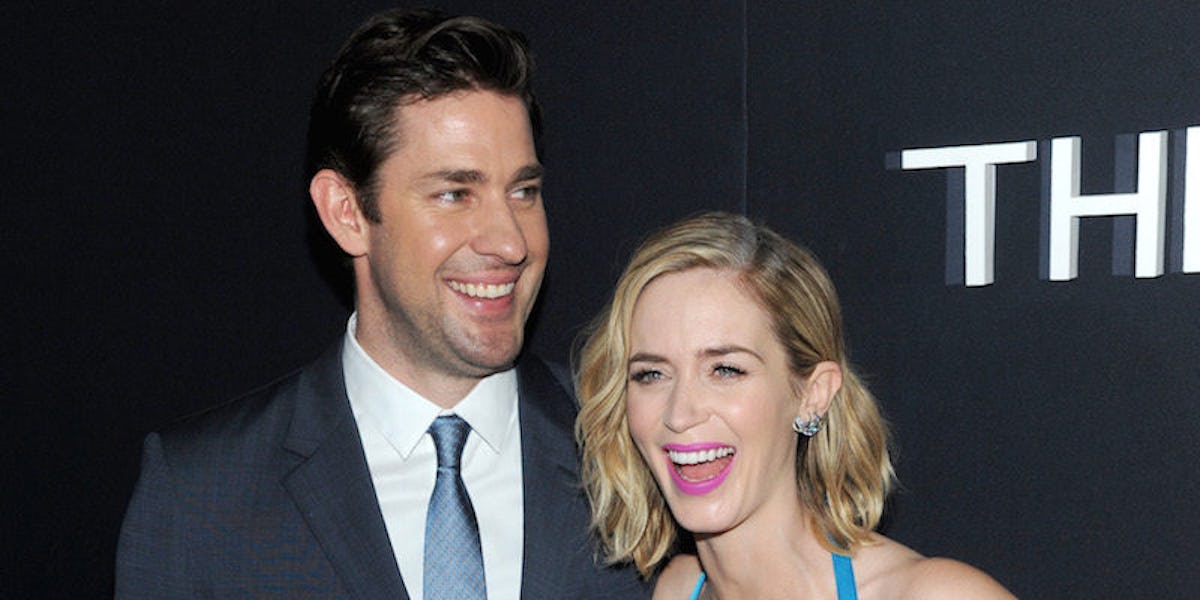 John Krasinski Opens Up About Moment He Fell In Love With Emily Blunt
REX/Shutterstock
John Krasinski is Jim Halpert is John Krasinski is Jim Halpert is John Krasinski is Jim Halpert is John Krasinski is Jim Halpert and so on and so forth forever into eternity beyond death and human existence.
The director of "The Hollars" talked to ET about his instant connection to wife Emily Blunt and, for a brief, gleaming instant, the heavens parted and everyone's favorite prankster from "The Office" descended and walked among us again.
He told the site,
I mean, I don't know who meets Emily Blunt and doesn't hope that you get to become her husband. So, that was pretty immediate for me. But also, my parents have been happily married for many, many years and truly feel like they're more in love today than they were the day they met.
It's not that John thinks marriage is some simple, solvable equation just because his own parents figured it out.
In fact, he admits it's "an incredibly sacred thing that you're hoping gets to come your way and something where you get to share happiness with someone else."
Lawd. I'll give your genitals a moment to recover from all the romance that's already occurred.
You good? Because we're diving right back in.
The 37-year-old added,
I will say it's tough. It's a big commitment and it's hard to look at these different people through that lens, because it's an intense lens to put anybody under. But Emily, through any lens, is someone that you just pinch yourself that you even get to be around her, let alone married to her.
WOAH BABY JESUS, THAT'S MORE ADORABLE THAN SWEET CHRIST IN THE MANGER.
The Krasinski family doesn't plan on stopping at a personal commitment, either. They're more than willing to team up on a professional project as well.
When asked whether he'd ever direct his wife in anything, John shared,
That would be great. We've always wanted to work together, but it's just about finding the right story and also finding a story that's unique and specific enough that the story itself will be a better story than just the idea of us working together. And that's somewhat difficult to find, if that makes any sense. We want the narrative to be the movie itself, not overwhelmingly just that we're married and we worked together.
Right. Yes. OK. I hear you loud and clear, Johnsito. I am drafting a script as we speak.
Do you like aliens? Spaghetti westerns? You know what, actually? I'm just going to surprise you both. Hold tight. Stay in love. Stay amazing. Stay precious.
Citations: EXCLUSIVE: John Krasinski on Not Reading Reviews and the Moment He Knew He Wanted to Marry Emily Blunt (Entertainment Tonight)