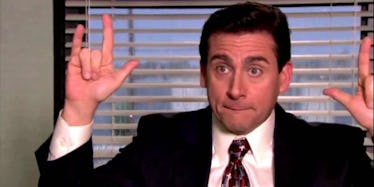 'The Office' And '30 Rock' Might Be Coming Back And We're So Here For It
NBC
It really wasn't too long ago we were in sitcom nirvana with the brilliance of The Office and 30 Rock airing on NBC, but it feels like an eternity to those of us who still rewatch both shows on a regular basis. The two hit workplace comedies ended in 2013, but now NBC is teasing a possible return for both shows! That's right — The Office and 30 Rock could be back sooner than you think. NBC Entertainment chairman Bob Greenblatt told Deadline he's been talking to the creators of both sitcoms about revivals for a while now, and they both sound like definite possibilities.
Greenblatt revealed he often talks to The Office showrunner Greg Daniels about reviving the long-running comedy series and confirmed NBC has given him an open invitation whenever he wants to revisit Scranton, PA.
We often talk about The Office, I've talked to [show developer Greg Daniels] four times over the past few years. It's always, 'maybe some day but not now.' There is certainly an open invitation but we don't have anything happening right now. If he wants to do it, I would do it.
He went on to say he's had similar conversations with Tina Fey about bringing back 30 Rock, but nothing is in the works yet.
I'd say to Tina 'Hey, you think some more 30 Rock makes any sense?' She'd say, 'I don't know maybe.'
Both shows were huge hits for NBC and are considered two of the most beloved modern sitcoms. If either Daniels or Fey does express interest in revisiting their old shows, it's apparent NBC would jump at the idea of a reboot. Sounds great, right? Well, if they do decide to go for round two, the biggest roadblock will probably be getting the casts back together.
Both shows served as launch pads for their ensemble comedy casts, creating a handful of movie and TV stars who may no longer be available for another run. For example, John Krasinski has transformed into a bona fide action star and Steve Carell is now one of the most sought-after movie stars in Hollywood. Over in the 30 Rock-iverse, Tina Fey has shifted her attention to movies like Sisters and Whiskey Tango Foxtrot along with her new series Unbreakable Kimmy Schmidt, and Alec Baldwin is balancing his hosting duties on Match Game with his Donald Trump impression on Saturday Night Live.
Still, with such huge support from the network, a TV culture revolving around reboots, and an obviously loyal fan base already built in, it seems likely a 30 Rock or The Office revival could totally be on its way.