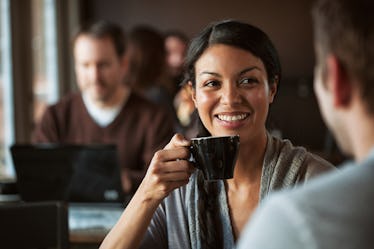 Here's What You Can Really Tell About Your Crush, Based Off Of Their Coffee Order
Sean Locke/Stocksy
Can I get a caramel macchiato with extra whipped cream, please? We live in a culture that totally runs on coffee. Your morning wouldn't quite be complete without a cappuccino or your usual order from Starbucks. Even on the days when you don't really have time to make a stop, you manage to squeeze in that cup of Joe. But, caffeine isn't the only thing you're falling head over heels for — and if you're in the dating game, you know that you've been seriously daydreaming while sipping out of your mug lately. There are some things you can tell about your crush, just based off of their go-to coffee order. So, you'll want to schedule that coffee date ASAP.
Truth is, coffee dates can be a great way to break the ice. There's truly nothing like bonding over a mutual love (and let's be honest, need) for caffeine. Some couples even end up getting really into the scene, and travel around the world trying new and different brews. Nothing espressos your feeling for your new lover quite like a quality bean.
Your crush is honestly brew-tiful, and you're crossing all your fingers that the universe makes it happen and all the stars align. You just have a latte love to give, that's all. OK, enough of the puns — let's get to it. These nine things will tell you a lot about your crush just from their caffeinated drink choices — just in case you were looking for more signs in your soulmate.