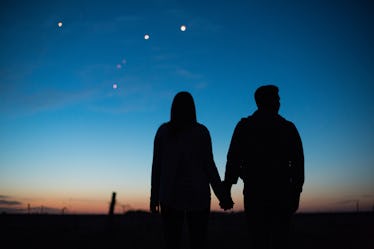 7 Best Places In The World To Stargaze With Your SO That Are Beyond Stellar
Brian Powell/Stocksy
Look up. The sky always has something to show you. The city has a lot of bright lights, and you love staring at the skyline. When all the windows of the big buildings are illuminated, I suppose it can be a little inspiring. But, I promise you that you're sort of settling when you stick to skyscrapers, and that the best night show comes from the stars. Nothing will ever quite compare to being surrounded by nature and getting lost in the galaxy. The best places to stargaze can be as close as your backyard, or as adventurous as camping in national parks. They say you should shoot for the stars, but sometimes, just looking at something so lovely is enough.
Maybe you recently tuned into The Super Blue Blood Moon, or can just pick out a constellation or two. Astronomy was your favorite part of science class, and I can't really blame you — it's pretty cool. If you're anything like me, you blame your problems on Mercury Retrograde, listen to all those zodiac sign articles, and are definitely not a rookie to reading daily horoscopes.
Truth is, the universe is big and we love to believe in it and the power of the planets. It's fascinating to think that the stars have control over our fate, and there's something romantic about gaining such a stunning perspective of our place in the whole wide world. If you're looking to do some soul-searching, or are just in serious need of nature, check out one of these seven stellar spots for some stargazing with your boo.