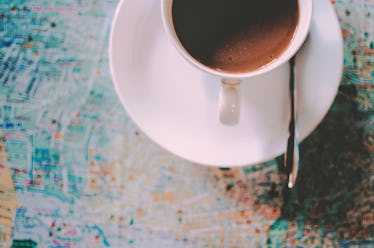 6 Best Coffee Shops Around The World To Visit If You're In Need Of A New Brew
Wizemark/Stocksy
Bored of your usual brew? I don't blame you. Your go-to coffee shops are best on a busy day. After all, your favorite barista probably already knows your order and has it ready for you when you walk in the door. But, sometimes we're in the mood for a new experience. Coffee is a culture, and after drinking a thousand dark roasts, you're no rookie to the caffeine conversation. So, before you settle yet again for your usual cup of Joe, check out one of the best coffee shops around the world. You deserve something brew-tiful.
Sure, you might not be a connoisseur (yet), but you'd love to be able to sit and stay awhile at a local independent coffee shop (They always have the best beans.), or jet set to taste something with a slightly different tang. There are thousands of flavors to try, and you've probably already discovered the hazelnut, vanilla, and caramel coffees of the world. But nothing will beat an authentic Italian cappuccino, with a Nutella croissant on the side.
You couldn't picture your morning routine without your favorite roast, and the days where you can spend some quality time with your tea alternative are your favorite. Maybe you bring your laptop to a local java spot and get some work done on the weekends, or meet a friend for a date. With coffee there, you're always in good company.
We love you a latte, so we care about the coffee you drink. Put down the Pumpkin Spice Latte, and visit one of these six spots around the world if you need something more special than your average Joe.