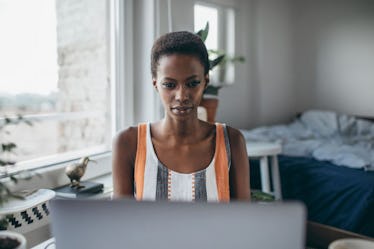 8 Tips For Staying Focused In A Home Work Environment, Because The Struggle Can Be Real
You work from home? Me too! Welcome to the club of logging onto your laptop and wearing sweatpants every day. Have your friends and family told you that they're jealous yet? Don't worry, that conversation is coming your way very soon. In the meantime, though, you're realizing that this alternative work style has its perks and its downfalls. On the one hand, you can go to your kitchen and grab a snack or a cup of coffee, basically whenever. On the other hand, you're wondering one thing: how to stay focused when you're working at home and feeling distracted AF.
Let's be honest: You're a hard worker and love your job, but you're also a human being. At times, your mind wanders off and you have to force it back down to Earth. You catch yourself in other thoughts and dreams, or opening a new tab in your browser and automatically searching for funny YouTube videos. You realize what you've done, and then frantically get back to your assignments. (Excuse me, will power? Where did you go?)
It's understandable, considering you're really just inches away from your favorite relaxation spots. Unlike some people in this world, your commute to the couch is nonexistent. But, as sweet as working from home can be, it's sometimes not the most ideal situation for when you need to hustle and bustle. Lucky for you, being a #girlboss and getting rid of those distractions is possible. Just take these eight tips from me, and you'll be good to go.