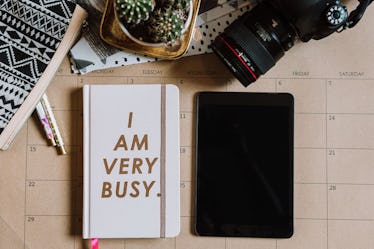 8 Cute Planners To Buy On Etsy If You're Already Excited For School To Start
Keeping track of all of your commitments can be hard. You may put every appointment and coffee date in the calendar on your phone, or put sticky notes all over your mirror. But once the school year starts, you know that won't be enough. You'll need one place for your to-do lists and every group project meeting in between. Naturally, you've already done lots of school shopping, and even picked up some sweet gel pens. Now, the last thing on the list is one of these cute planners to buy on Etsy. You're so excited for school, and don't want to slack off by skipping out on such a sweet deal.
Supporting a local artist or entrepreneur will help you start this semester off on the right note. You'll want to grab a pack of stickers or two, so that you can mark events and special days. (After all, nothing makes a dentist appointment better than a little tooth with a smiling face next to the reminder on the page.)
When you walk into class with your planner in one hand and a cup of coffee in the other, you'll feel ready to take on the world. You might be busy AF, but being organized will help you get through each day. One of these eight planners from Etsy will be a must on your back-to-school shopping list.