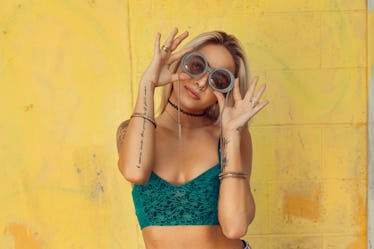 How Traveling Helped Me Face My Fears & Live The Life Of My Dreams
What's your biggest fear? Sharks can be pretty intimidating, and don't even get me started on spiders. Staying at home is so much better than dealing with awkward friend drama, and don't put me down for anything that involves heights, OK? In all seriousness, though, your fears tend to drive your life. Some of them can take hold of the steering wheel, and often pull you in the opposite direction of your dreams. But, how traveling helped me face my fears amazes me to this day, and could help you live your best life, too.
My first experience with traveling was studying abroad. Before then, I had taken trips to Disney World and an island in the Caribbean with my family — but, that doesn't quite count in my head. You see, spending four months in Italy changed everything for me. It took all of my fears and threw them into the wind from the second my passport got stamped. I found myself hiking cliffs along the coast and going on spontaneous excursions. Traveling became my passion, and I wanted nothing more than to hop back on a plane.
So, I booked more flights and started seeing places that were closer to home. Over time, I got comfortable with navigating airports, and faced even more of my fears. Turns out, the life of my dreams was waiting for me at the gate. You ready? Let's go.