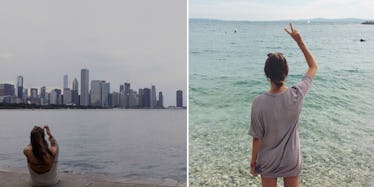 How Traveling In My 20s Prepared Me For The Real World In 8 Unexpected Ways
Traveling has my heart. It's going to sound cheesy and probably overrated at this point, but I've completely fallen head over heels for hopping on planes and exploring the world. I just can't get enough of the evergreens in the Pacific Northwest, and the turquoise water of the Mediterranean Sea. I've found that every trip changes you, and realized just how traveling prepared me for the real world in the most unexpected ways. These lessons are so important. Catch a flight and get your passport stamped, so that you can learn them, too.
I don't know exactly what you've heard about "the real world," but I hope you're ready for it. Soon enough, you'll be out of college and creating a life for yourself. It may seem a bit intimidating, but I promise there's a lot of beauty in the unknown. You might feel lost at times, and wonder if you're heading in the right direction.
With every destination and trip, I found my footwork and discovered what truly sparks my soul. Now, I'm pursuing my passions and chasing a life I was meant to live. Somehow, I became more prepared for the real world along the way. Who would've thought that would happen, too?