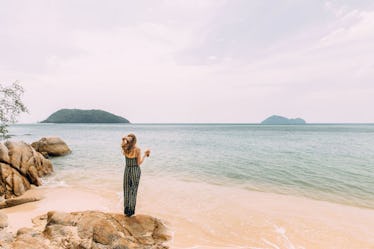 If You're A Daydreamer, You Know These 7 Things To Be Too True
Do you have your head in the clouds? If so, you've probably been called a daydreamer. You spend most of your time in your thoughts, and are always in the midst of some dreamy idea. Out of your friend crew, you may be the creative one, or girl who is so passionate about living life to its fullest. What can you say? There's just a whole world of possibilities out there, and most of them already exist in your head. When you're a daydreamer, you know that there are some things that are just too true. Don't worry, though, you're not the only one.
I've been a daydreamer for as long as I can remember. I'd get caught spacing out in school sometimes, and my friends would have to bring me back down to Earth. Most of the time, I was thinking about traveling or where in the world I wanted to be. The streets of Florence were always so lovely, or even somewhere tropical when it was the peak of winter. It's safe to say, those visuals haven't changed much over time.
Maybe you're imagining similar things, too, or just have pizza on your mind. It's going to sound cheesy, but I honestly love daydreaming, and I like to think it's OK sometimes to have your head in the clouds. If all of this already sounds super familiar, then these seven things are probably pretty relatable, as well. Read them before you take flight again, OK?