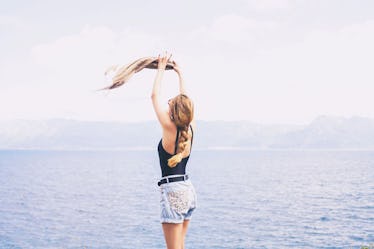 How To Stay Grounded In Your 20s, If Your Head's Already In The Clouds
Being 20-something isn't always smooth sailing, but it's better to not get caught up in the whirlwind. Seriously, some days the drama and balancing your schedule feels overwhelming AF. You may begin to get worked up over little things, like the fact that the barista forgot to put the caramel in your macchiato, or you spilled a bit of your smoothie on your shirt. When did it get like this? If you're wondering how to stay grounded in your 20s, it's actually quite simple. It's your life to live, but styling it just right will keep your head out of the clouds.
You would think a decade would go by slow. But soon enough, you'll be onto the next best thing in life, and have missed out on all the sweet moments that are happening in the present. Sure, paying the rent bills and cleaning your apartment on a lazy Sunday might be getting old. Did I mention yet that you have big presentation on Monday, and look at all of your friends hanging on the beach! Oh boy, here we go again.
Just like that, you're off to another planet on a rocket ship going a mile a minute. It happens to the best of us. I mean, after all, life has a ton of unexpected curveballs. Lucky for you, though, there are seven ways to stay grounded in your 20s. Welcome back to Earth.