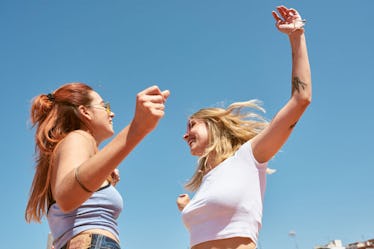 7 Things Your Home Friends Always Understand When Nobody Else Does
Home is where your besties are. When you head off to college, one of the things you may miss the most is the friend crew that has been there since day one. They were in your kindergarten class, and played on your field hockey team in high school. The memories from pasta parties, band practice, and every adventure in between are endless. Sure, going off to school meant making new friends and finding roommates that would be your soul sisters for four years. But, there are truly just some things your home friends understand that nobody else ever does. Maybe that's why you love them so much.
You remember the days of watching Hannah Montana after school, and get a little nostalgic over the birthdays and heart-to-hearts you've had along the way. You've likely spent hours on FaceTime late at night catching up on weekends when you weren't together. Honestly, long-distance relationships are tough, and you have a couple of pictures in your room of your partners-in-crime, too.
The second you get home, you'll probably see your besties and give them the biggest hugs. Even though you were away, they have been your go-to girls for everything — from laughs to advice, and memes on a rather rough Monday. They know exactly how to make you smile, and will take you out for home fries at the diner when you're nervous about a date. These seven things they totally understand — and thank goodness, because nobody else does.