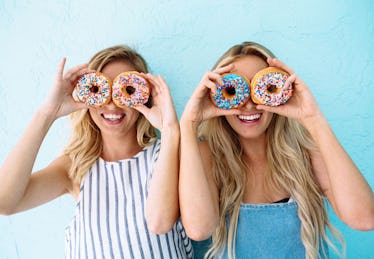 Why Seeing Your HS Besties For The First Time After College Is Never What You Think
With a few semesters of college under your belt, high school probably feels like it was ages ago. You've lived in a dorm room, turned roommates into besties, and figured out how to navigate your campus. Finals weren't always a breeze, but you made it through the long nights in the library, too. You've really made so many memories (and ordered a lot of pizza) in such a short amount of time. But, college hasn't been quite the same as the days of lockers, lunch tables, and soccer practice after school. Seeing your high school friends for the first time this summer is bound to be sweet, but you also might be worried it's going to be awkward. Don't stress, because the reunion won't be what you think.
High school was four years of homecoming dances, making it to states for track and field, and trying to stay awake in AP classes. Your hometown crew was by your side for your first crushes, and when you needed a buddy in the hallway. Surprisingly, that won't change now that you've all been to college. You'll still be sharing so many hugs and stories with your day ones, and will be reminiscing about the good 'ole days.
You're not entirely the same people you were a year or so ago. College has broadened your horizons, but your high school friends are really part of your roots. Seeing them for the first time this summer will be better than you believe for these six reasons.