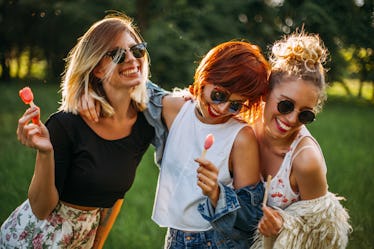 7 Things You Forgot To Thank Your High School Friends For & Should ASAP
Friends are a dime a dozen, but a solid, genuine group of girlfriends can be difficult to come by. When you find your tribe, you need to stick with them until the end. For some lucky people, your high school friends have been your besties since day one. You never went anywhere without them, and they helped you get through the emotional roller coaster that came with being a teenager. There are so many things to thank your high school friends for, but you might not have been able to tell them in person. If that's the case, then there's no better time than the present.
You may have moved away from your hometown, but it's never too late to express how you feel. With many of us celebrating graduation or graduation anniversaries, it's the perfect time to send your high school friends a letter, a sweet text, or even give them a phone call to let them know how much you care. Even if it's only been a year since high school, you can still get nostalgic AF and send the love your friends' way. You may not even have to say anything, because they already know, but it's always heartwarming to hear how grateful you are for these seven things they did for you.