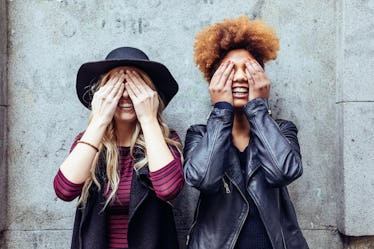 The 8 Relatable AF Struggles Of Making New Friends In Your 20s
VICTOR TORRES/Stocksy
The friendship struggle is so real. Being 20-something means that a lot of things are changing in your life. You're living in a different city, listening to different music, and your bucket list has honestly only gotten bigger. From the days of playdates and wandering around the neighborhood sidewalks on your scooter, a lot has happened. And you've made and lost a lot of new friends even since middle school. When it comes to making new friends in your 20s, it's honestly just as tough. Everyone is sort of doing their own thing, and as an adult (Yuck), you have to be the one to break the ice in the pursuit of new besties.
I don't think there's a guide out there on how to make new friends, but if there were, I'd want it to be written by a second grader who doesn't know that social anxiety exists. Seriously, when it comes to landing new ladies in your life, it can be more complicated than navigating new relationships. Or at least, that's what some of us tell ourselves.
You may sometimes wish you could just jet set to your hometown where everyone already knows your name (Is that a good thing or bad thing?). But, when the friendship fireworks start flying, you're once again left with someone you're seriously lucky to have in your life. These seven reasons explain that struggle, in case you couldn't quite put it into words.