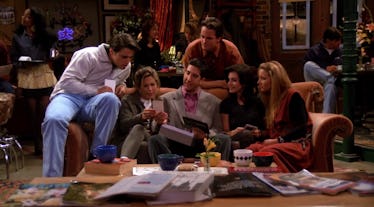 7 Things We Learned About Our Own Friend Group From Watching 'Friends'
NBC/Netflix
"When it hasn't been your day, your week, your month, or even your year... " -- your friends will still always be there for you. Being 20-something can be confusing and lonely at times. You might be getting a degree, starting a new job, or soul-searching in your own way. But if there's one thing all that TV-watching has been good for, it's the things we learned from Friends that have taught us so much about our own friend crew.
They say friends are the family you get to choose -- and I would somewhat agree. Some of my best friends are people that were just so cool and weird that I decided those humans needed to be in my life. But other times, you just get lucky. Stars align, and the universe lets people come into your life that you never knew you needed.
Do you think Joey and Chandler ever expected they'd be hugging it out episode after episode when the Italian actor first moved into that little apartment? I'm thinking, probably not.
Having people in your life who are down to live your craziest adventures -- spontaneous trips to Montauk, weddings in London, or canoe rides in your living room -- are the kind of people you should keep around. They'll stick around for the good times, and that drunk night when you got married in Vegas. Here are seven things Friends has taught us about how cool our own friend crew really is.