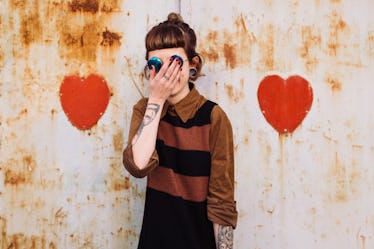 7 Genius Ways To Deal With The Sarcastic Friend In Your Crew
Nemanja Glumac/Stocksy
Life is so much better when we're laughing. Maybe you're the kind of person who really like puns, or ends up rolling on the floor over Spongebob Squarepants scenes. We all have a different sense of humor — and if you have a sarcastic friend, you know that things should really never be taken too seriously. But, sometimes you struggle with how to deal with the sarcastic friend in the group, because it can be a little too much. Have no fear — your feelings are important, too, and coping with it isn't as tough as it may seem.
If you're like Sheldon Cooper from The Big Bang Theory when it comes to sarcasm, you might not truly be sure of what you're dealing with. There's such a fine line between offensive and the perfect opportunity for humor, and unfortunately, a lot of it is very situational.
Sometimes calling out a friend who's been in your life for so long can feel weirdly uncomfortable, or maybe you're like me and just incredibly passive aggressive. Being a little blunt with your bestie and yourself will surely keep it cool, calm, and collected amongst your crew. And odds are, somebody else is feeling just the same, too.
I'm not totally a pro, but I've learned a few things in my friendships over the years. And all jokes and puns aside, it can be difficult dealing with your sarcastic friend, so these seven pointers are here to help. We'd all rather be laughing with our ladies, than letting them get on our nerves.