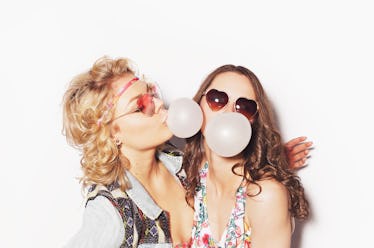 7 Annoying AF Things Your Bestie Does That You Wouldn't Trade For The World
pauchi/Fotolia
You can't live with them. You can't live without them. There's nothing quite like a best friend. Whether you've known them since you were five years old, or you two just became close last year, there's something truly special about having someone who just gets you. She'll finish your sentences (or maybe sandwiches), and text your family like her own. Even despite the annoying things your best friend does, you just wouldn't trade your partner in crime for anyone else.
We often set our best friends to some pretty high standards. Maybe it's sitcoms or social media, but we tend to expect that our friendships will be full of banter, gossip over Mr. Big, and unbelievable adventures. Living in a New York City apartment -- filled with IKEA furniture and unlimited amounts of pizza and coffee -- with your closest gal pal? That's the real American Dream.
What they sometimes leave out in all of those shows is the fights over why you call it "pizza" and they call it "pie," how you're gonna pay the rent on that shoe box city apartment, and that one time you missed a coffee date.
You and your best friend will have your ups and downs (It's a relationship after all!), but you'll always end up on the same page. Just try not to hate her too much for these seven annoying things she'll inevitably do, because who else would you want to be there for you?