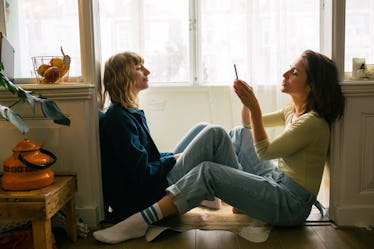 5 Things That Never Change With Your Hometown Besties, No Matter How Old You Get
Ivo de Bruijn/Stocksy
You weren't kidding when you said best friends forever. Sure, it was just a pinky promise you made in second grade, but you've stuck to it ever since, and don't plan on that ever changing no matter how old you all get. You've wandered off to college, and come back on the breaks to the best reunions with your besties. Truth is, you always find your way back home, and it's because of the friends you made so long ago that make this place seem sort of perfect in a way. There are some things that never change with your hometown friends — and you're so happy that's the case, because you're comfortable with your crew.
At any moment, they'd be the ones you'd choose for adventure. Drives around town blasting throwbacks from your days of middle school dances, hitting up the local diner for milkshakes, and spontaneously eating ice cream on the floor of your family's kitchen really never get old. You have inside jokes that to this day make you laugh, and nostalgia is never out of the question.
They've been there since day one when there were diapers, and they'll be there causing trouble in the nursery home with you, too. You'll likely find new cities and places in this world that feel more like home than your town, but these five things still won't change with the friends you'll have forever.