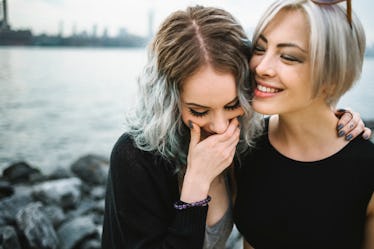 7 Simple Ways To Feel So Much Closer To Your Long-Distance Bestie
GIC/Stocksy
They say distance makes the heart grow fonder. But, when it comes to our closest friends, we already have so many feels. Maybe you moved away to college, or have just found yourselves in separate cities. Whatever the reason may be, you are in the toughest long-distance relationship of your life, and you can't help but miss having your best friend around for all of your life adventures. Sure, she's ideally just a phone call away. Phew, technology really saved us on this one. But the truth is, texting doesn't always cut it, though, and you're wondering how to feel closer to your long-distance friend when she is so many miles away.
She's your main squeeze, and the separation anxiety is so real. You've told all of your other friends a million stories about her, but bottomless brunch — along with so many other activities — just isn't the same without your true bestie.
Long-distance friendships can be so difficult, and compared to having a long-distance relationship with your significant other, they can truly be so much more stressful. You're used to having your bestie right down the block. She'd hug you when the world was getting to be just too much to handle, and make you mac and cheese late at night while you talked about all your memories. You miss having her right by your side, and we know coping can't be easy. So, if you're struggling a bit, try one of these seven things to feel much closer to your forever friend.