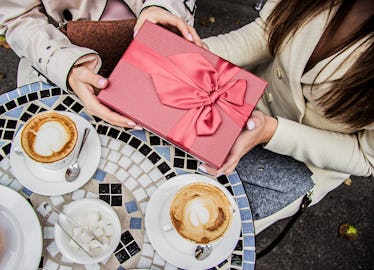 The Perfect Galentine's Day Gift For Your BFF, Based On Their Zodiac Sign
Shutterstock
Ovaries before brovaries. That's the girl code, and this Galentine's Day, you're dedicated to it more than ever. You love your pals and plan on saying "thank you" for everything they've done for you. They've been there through thick and thin: the milestones, relationship drama, late-night ice cream runs, and the millions of texts in between. It's only right that you give them a gift that's totally suited for them. If you're not sure what to snag for your BFF, look to the stars for Galentine's Day gift ideas for your bestie, based on their zodiac sign.
You have Leslie Knope from Parks and Recreation to thank for Galentine's Day, but also for her unreal gift-giving standards. Thank goodness you don't have to keep up with her and her excessive calendar of holidays. But you do want to get our bestie something they'll truly love, because they deserve nothing less than the best. You might be tired of receiving mugs, scarves, and other classic go-to's when it comes to gift giving. Sure, this time of year a blanket scarf is always appreciated, but you and your bestie basically share a closet, and you know they already have one too many.
Before you start stressing, take some shopping advice from the stars and get this perfect gift for Galentine's Day, based on your bestie's zodiac sign.
This article was originally published on