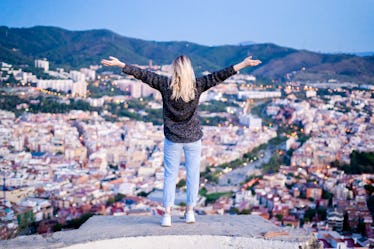 10 Easy Ways To Check Off Your "Travel More" Resolution In 2020
Westend61/Westend61/Getty Images
Here's the deal: This is the year you're actually going to travel more. You aren't just going to jot down this dreamy resolution and then not book a flight to somewhere on your bucket list. In addition, you're not going to wait for a detailed itinerary to fall into your lap. Instead, you may see the Eiffel Tower, dance on the beach in Australia, and embrace all the easy ways you can travel more in 2020.
Truth be told, traveling can be easy. In my experience, it simply requires willingness to think outside of the box. In order to see the world, you need to have an open heart and mind, and set attainable expectations for yourself. These expectations may be to try a type of cuisine you've never had before, or come up with a routine for when you're in an airport. Either way, they should be broad so that the journey you go on can truly define them.
Once you start participating in all things related to travel, you'll find that it doesn't matter where you are in the world — whether that be in your home city or across an ocean. You're in a destination. You're traveling, taking pics, making memories, and expanding your horizons. It's that simple. Here are 10 easy ways to travel more in 2020. Ready, jet-set, go.