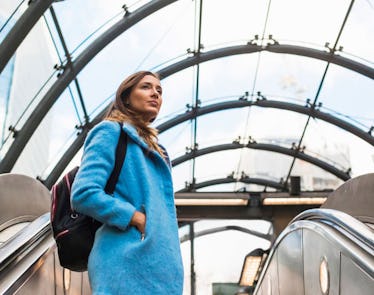 The First Time You Navigate The Airport Alone, You Learn These 5 Things About Yourself
Having travel experiences all by yourself is a true sign that you're an adult. Like filling out an application for an apartment or paying your rent on time, hopping on a plane by yourself brings you to the next level in life. Suddenly, it's up to you to pack your suitcase, collect your documents, go through security, and find your gate before take-off. It honestly feels so good to be in charge and take the leap without anyone holding your hand. When you're navigating the airport by yourself for the first time, in particular, you learn a few things — about yourself, the world, and what it takes to get to where you want to go.
In my personal opinion, traveling requires little bit of confidence. It takes trusting your gut when you're trying to follow a map and can't quite figure out where you're supposed to be, and being bold when you hit the purchase button on a plane ticket. You have to believe that you'll figure out the complex lines at the airport, and show the world that you're ready for what's next — the amazing friendships, sights, excursions, and memories that are in store. (Are you getting excited just thinking about it? Me too!)
Aside from confidence, though, you have to be humble and assume that you're going to learn a few lessons along the way. Navigating an airport by yourself for the first time is a true teaching moment, and these are the five things you'll take away.