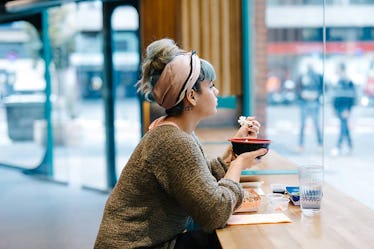 The First Time You Feel Comfortable Eating In A Restaurant Alone, You Learn These 5 Things
There's a lot to be said for doing some things in life alone. At first, the idea of grocery shopping, going to a dentist appointment, or hanging out in a coffee shop without your best friend might sound totally cringe-worthy. But, having these experiences all by yourself can actually be really rewarding. Picking out your own bag of chips or handling complicated documents at the receptionist's desk makes you feel more confident, and teaches you a ton about the "real world." When you feel comfortable eating alone in a restaurant for the first time, in particular, you learn a few things about yourself and your surroundings that you couldn't otherwise.
Right now, you can't quite picture yourself walking into your favorite restaurant and saying, "Table for one, please!" You'd rather have a cute dinner date at home, and pair your pasta with your favorite sitcom on Netflix. Hear me out, though.
Eating alone in a restaurant allows you to enjoy time where you can just "be" instead of "do." You get to people-watch, notice the details in your food, and not worry about making conversation along the way. Truth is, as amazing and social as going to a restaurant with your besties may be — it can take you away from parts of the experience that you can only have by yourself. And when you do ask for that table for one, you end up learning these five things.