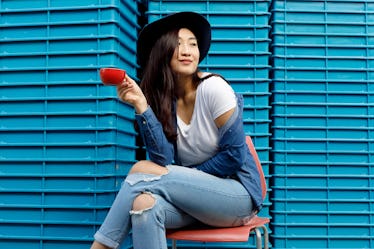 12 Things That Give You So Much Happiness Once You Feel Comfortable Doing Them Alone
As an introverted extrovert, constantly being around people can be exhausting. Don't get me wrong: I love spending time with my family, friends, and boyfriend. I even enjoy being put into situations where I have to talk to strangers. In fact, I thrive on being able to spend the majority of my time surrounded by people. But sometimes, it's nice to have a little time to myself — especially when I need to be productive. As I've matured, I've learned that there are just some things you feel comfortable doing alone in your 20s.
Even us extroverts need some time to ourselves. I often look for pockets of time in my schedule when I can be solo. I might take a walk, or hit up my favorite coffee shop, or even just relax at home. Regardless of where I'm going, it's nice to unplug for a little bit and spend some quality time with me, myself, and I.
I've also really embraced spending some alone time, because it has taught me a lot about loving myself and appreciating the things that make me, me. Alone time gives you perspective, and really allows you to reflect on where you are in your life.
Whether you choose to meditate, cook yourself a meal, or even — gasp! — go to a wedding sans-date, try out doing some of these things by yourself while you're in your 20s. You'll be so glad you did.