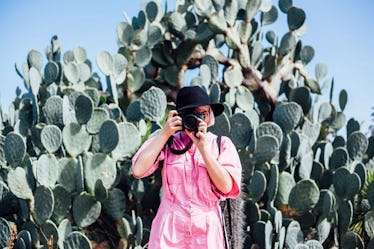 5 Travel Traditions I Started With Myself That Make Every Trip So Much Better
Right now, I don't have any trips in the books. I've run into my friends or people I know in the grocery store, and that's always their first question: "Where are you going next?" Truth is, I'm not quite sure of the answer yet. I do have a bucket list, a suitcase basically ready to go, and a lot of wanderlust and excitement attached to getting on a plane and going elsewhere. I would love to roam around Bali, after watching Eat Pray Love, and hike to the massive waterfalls or lagoons in Iceland. It'll happen, and when it does, there are some travel traditions I started with myself that I'll do once again — little routines that seemingly make every trip so much better.
When I first started traveling, I seriously had no idea that I would love it so much. I had no idea that I'd want to center my life around cameras and doing adventurous things. In fact, growing up, I was always the girl who was scared to go on the monkey bars and didn't want to be a cheerleader because getting lifted in the air sounded terrifying. Oh, how things have changed.
Now, I'm catching flights and making memories from coast to coast. I'm taking pictures of palm trees, mountains, and historical landmarks that I once only saw in textbooks. I'm incredibly grateful for it all, and these five traditions I've made along the way. It's your turn, OK?