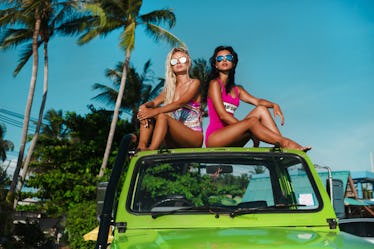 8 Best Travel Experiences In Your 20s That You'd Only Want To Do With Your Best Friends
There are some things in life that are better experienced with your best friend: responding to text messages from your crush, getting through a rainy Monday, and hitting up your favorite coffee spot. Most notably on that list is traveling. As much as you may love taking trips with your significant other or siblings, nothing quite compares to experiencing the world with your best friends. You always make a ton of memories, and capture every single laugh and otherworldly moment on camera. It's true: Some of the best travel experiences in your 20s you'd only want to do with your best friends.
You know from the trips you've taken in the past, that you can always expect a few things to happen when you travel with your best friends. The night before your flight, the group chat always lights up with people asking questions about what to pack and what time everyone's waking up. Then, you get to the airport and stock up on snacks after getting through security. The only thing left is getting to your destination and having the adventure of a lifetime.
With your best friends, your wildest dreams and expectations for a trip come true within the first few moments of being in your hotel room. So, do me a favor: In your 20s, make sure that you have these eight travel experiences with your best friends. It's essential for living a life with zero regrets and a ton of passport stamps.