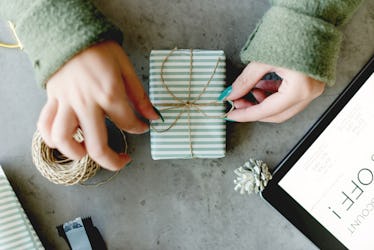 10 Cool & Useful Gifts To Send Your Friend Who Just Got Engaged
Shutterstock
If your best friend just got engaged, then you're probably spending a lot of your spare time looking for a quality gift to send them. While you're bored at work, you might be scrolling through engagement gift ideas on the Internet, and when you're making dinner, you might be daydreaming about what you would want if you were in their shoes.
But, to your disappointment, you might be coming up short. The typical bottles of wine or pieces of home decor may not feel like enough. After all, this is your best friend we're talking about — the person who's been there for you through thick and thin, and would listen to you rave about your crushes in high school. They deserve a private island, a yacht, or all the stars in the sky wrapped up in a beautiful bow. (Too bad that's not quite in your budget or feasible, huh?)
At the very least, they deserve a present that's cool and that they'll get a lot of use out of. This could be a cheese board for when they're hosting parties and get-togethers, or personalized duffel bags for their honeymoon. Here are 10 engagement gift ideas that are guaranteed to score big with the happy couple.