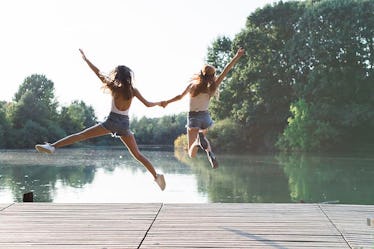 7 Easy & Attainable Ways To Be More Spontaneous With Your Life This Year
Gic/Stocksy
Take the leap and dare to be different. We're not all so spontaneous. Usually, out of all the star signs, our Sagittarius friends are the most willing to dive head first into life's adventures. Maybe we're scared of what people might think, or just feel stuck in our current situation. Whatever's stopping us, we need to leave behind in last year. You might be wondering how to be more spontaneous this year — where does one even start? Truth is, it can be fairly simple and you don't need to be a daredevil to make your life a dream.
When we're spontaneous, we're truly making the most of life and getting out of our comfort zone. Like traveling to a foreign land or taking up a new language, we learn a lot about ourselves when we give in to adventure and go with the flow.
It's stressful to live by our schedules because it's oh-so-unnatural. You'll never make unforgettable memories just laying in bed, spending hours in the library, or feeding into the latest friend drama. Putting the planner away and hitting pause on your personal clock will be incredibly important in your pursuit of being more spontaneous.
You don't even have to go at this whole thing solo. Grab an already bold buddy or a friend who's looking to be a little more fearless, too. You're young, wild, and more free than you'll ever be. Being 20-something is beautiful that way, and this year doing one of these seven spontaneous things will help you make the most of it. No ragrets, am I right?