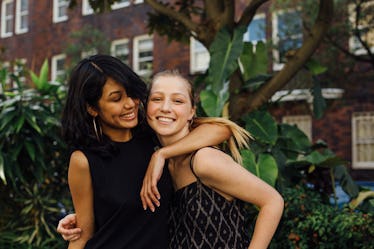 Why A Year Apart At School Makes No Difference For The Truest Of Friends
Jayme Burrows/Stocksy
In the words of Hannah Montana, you're a true friend. We love our best gal pal, and going off to college has been part of both of your life plans for as long as you can remember. She's our absolute day one, and the only person we would really call if we found ourselves in a sticky situation. You've had each other's back since kindergarten when the only real-life problems you ever faced were over crayons and how to spend recess. Yes, it's truly tricky being apart from your best friend at school, because she's no longer just a minute down the road. But, it isn't so bad when you realize nothing will really change no matter how far you both go.
She really has been there through it all — the boy drama, the snow days, and the awkward phases you both inevitably faced. You really can't imagine growing up without her, and probably don't thank her enough for helping you become the person you are today.
In retrospect, you probably should've gone to the same school and been roommates. Then, you would've never really had to leave your soulmate behind, because she'd always be around. But before you get totally in your feels, here are five reasons why being apart this year from your best friend won't really be that bad.